Kitchen Installations
Offering kitchen installation services throughout Birmingham, Solihull, Tamworth, Sutton Coldfield and the surrounding areas.
Our team is on hand to provide you with that perfect kitchen that you have always dreamed of. We have a highly professional and qualified team who have a wealth of experience in kitchen installation and design. If it is a simple redecorating or rearrangement job that you desire, or if you require a full kitchen installation, then we'd be happy to help. Get in touch today by calling us at 0121 405 0404.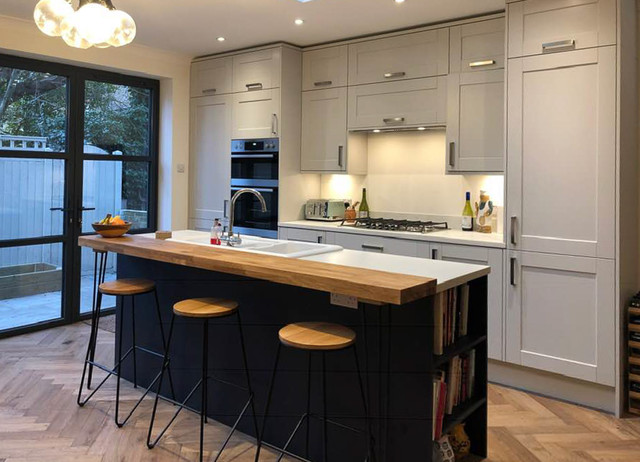 Kitchen Installation Services
Professional kitchen installation services are essential to ensure that your kitchen is put together correctly, securely, and effectively. Employing kitchen fitters with extensive experience in kitchen installation provides numerous advantages. They have the knowledge and abilities necessary to manage complex installations, overcome potential obstacles, and produce high-quality results. Professional installers are also aware of the most recent industry trends and building codes to ensure safety and compliance.
How to choose the right kitchen installers?
It is important to consider a number of factors when selecting a kitchen installation service provider in Birmingham. Consider a business with a solid reputation and positive customer feedback. Verify that they have a licence, insurance, and a portfolio of their previous work. Request references and communicate with former customers to determine their level of satisfaction. Ensure that the service provider also offers design assistance, material selection, and post-installation support.
Why choose AllForProperty Limited for your new kitchen installation?
At AllForProperty Limited, we are very proud of the work we do and the results we achieve. We have the utmost confidence that we will provide you with an end product that you will be happy with. Our team is vastly experienced and highly capable of delivering results. If you need more convincing then you can check out our reviews page to see what our past customers have had to say about their experience with us!
Kitchen Installations FAQs
How long does the average kitchen installation take?
The duration of a kitchen installation can vary based on the project's complexity. It can take anywhere from a few weeks to a few months on average. The schedule can be affected by variables such as the scope of work, the availability of materials, and any unforeseen obstacles.
Can I make modifications to the design during installation?
Although it is preferable to finalise the design prior to installation, minor modifications can sometimes be accommodated. Discuss any desired modifications with your kitchen installation service provider, and they will assess their viability and potential impact on the schedule and budget.
Can I install my own kitchen to cut costs?
Although installing a kitchen yourself may seem like a cost-effective option, it is advisable to hire professionals for this job. Installation of a kitchen involves intricate plumbing, electrical, and carpentry tasks, which require specialised skills and knowledge. Professional installers have the knowledge and skills necessary to manage these aspects in a safe and efficient manner, ensuring a positive outcome.
Speak to a qualified kitchen installer
If you live in Birmingham, Tamworth, Sutton Coldfield, Solihull or any of the surrounding areas, and would like to get in touch with us today, then you can do so by calling 0121 405 0404. Alternatively, you can send an email to info@allforproperty.com detailing which of our services you require, or simply fill out a contact form.