Bathroom Installations
We are proud to offer bathroom installation services throughout Birmingham and the surrounding areas, including Sutton Coldfield, Solihull and Tamworth.
Whether you would like to have a new bathroom installed or refurbished, here at All For Property, we can help you with our bathroom installation services. We will ensure all bathrooms are completed to meet your needs. If you would like to know more about our bathroom services or the areas we cover, simply call us on 0121 405 0404.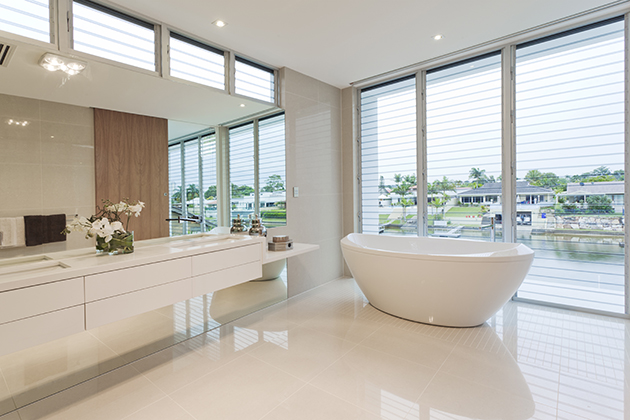 Bathroom Installation Services
A big project like getting a new bathroom fitted can be overwhelming, especially if you are taking on the project yourself. Here at AllForProperty, we are here to help so you do not have to go through it alone. We will take care of the entire project from start to finish. Our fully experienced and qualified team are on hand to help with the supply and fitting of your new bathroom, so you can have peace of mind knowing that you are in safe hands with us. Browse through our previous bathroom installation projects by visiting our gallery page.
With plenty of experience at hand, we understand what it takes to offer a professional service, which is why we are always guiding you through choosing the right products for your new bathroom. We will ensure all projects are completed to your standards and meet your requirements. Our customers have plenty of positive things to say about our services. Head over to our reviews page and read through the reviews they have left.
Why you should choose professional bathroom fitters
In comparison to installing a bathroom yourself, there are numerous advantages to hiring professionals for bathroom installation. Let's examine some of the most important factors why you should think about hiring experienced bathroom fitters.
Professionalism and Experience
Professional bathroom installers have the knowledge and experience necessary to manage all aspects of the project. From plumbing and electrical work to tiling and cabinetry, they possess the expertise necessary for a successful installation.
Tailored to meet your needs and requirements
The ability of experts to provide customised designs and solutions tailored to your specific requirements and preferences is one of the major advantages of employing them. They can collaborate with you to comprehend your vision and transform your bathroom into a bespoke haven.

Quality Services
Professional installers take pride in their work and endeavour for excellence on each and every assignment. They pay close attention to the slightest of details, ensuring a superior finish that exceeds your expectations.
Efficient Project Management
Managing a bathroom installation project requires coordinating multiple duties, such as ordering materials, scheduling subcontractors, and monitoring schedules. Professional installers flourish at project management, ensuring a streamlined and effective process from beginning to end.
Material and Fixture Selection
Experts in bathroom installation can assist you in selecting the proper materials and fixtures for your endeavour based on their knowledge of the industry. They have access to a vast selection of products and can recommend those that combine design, durability, and functionality.
Complying with Current Building Codes and Regulations
Building codes and regulations are crucial considerations for any home improvement endeavour, including the installation of a restroom. Professional installers are up-to-date on these standards and will ensure that your project adheres to all requirements.
Time and Cost Savings
Contrary to popular belief, employing professionals to implement your bathroom can save you money and time over time. They have developed relationships with suppliers, allowing them to acquire materials.
Book a Bathroom Installation Service Today
For bathroom installation services throughout Birmingham and the surrounding areas, including Sutton Coldfield, Solihull and Tamworth, get in touch with us here at AllForProperty by calling us on 0121 405 0404 and we will be happy to help.
You can also email us at info@allforproperty.com or message us using our contact form and we will get back to you as soon as we can. We hope you choose AllForProperty for any bathroom services you may require.