Providing outstanding Boiler Services across Sutton Coldfield
It can become extremely stressful when you are not getting the desired heating or hot water in chilly weather, pointing toward a significant defect in your boiler. Recruiting an expert heating engineer can vanish the issue.
At Allforproperty Ltd, our team includes active on-duty engineers that you can call whenever or whatever problem you face with your central heating. We are specialized in handling complex boiler system defects, which may include performing thorough safety checks, repairing broken boilers, and fitting a new heating system.
Our efficient heating engineers are highly qualified to answer your queries and offer expert recommendations. You can schedule an appointment immediately by calling 0121 405 0404, and we will guarantee things get fixed.
Certified & Reliable Boiler Service Sutton Coldfield
Allforproperty Ltd has maintained an excellent reputation among industry leaders for several years. Our heating engineers are fully experienced, and Gas Safe registered experts to perform a wide range of boiler services in Sutton Coldfield.
We have hands-on expertise with commercial and domestic boilers, so it doesn't matter which one you need assistance with. We take pride in our years of training to deliver the highest quality results and achieve the endmost customer satisfaction.
Guiding our customers through various plumbing knowledge and skills is a part of our service. Furthermore, we ensure that the task is completed according to the requirements.
You can look at our website's work gallery and reviews page to analyse our previous work.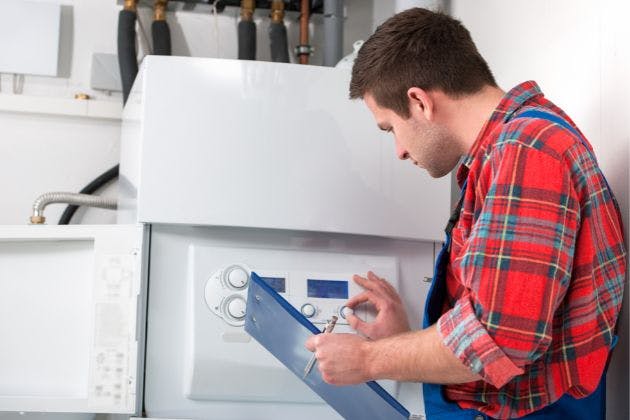 Why Choose Us?
At AllForProperty Ltd, our skilful heating engineers are available for any boiler services you need. Our boiler services include:
Boiler Installations
It could be time to think about a new installation if your boiler is older than ten years. Older boilers may be less effective and more prone to malfunction, which may lead to increased energy costs and expensive repairs.
Another indication that you might require a new boiler is:
- Strange noises are coming from your boiler
- Your boiler is leaking
- Your energy expenditures are greater than usual and your house isn't as warm as it used to be
How much does it cost to install a boiler?
The type of boiler you select and the complexity of the installation will affect the cost of installing a new boiler. In Sutton Coldfield, the cost of installing a new boiler typically ranges from £1,500 to £3,000.

Boiler Repairs
Boilers can experience a range of problems over time, including:
- Leaking
- No hot water or heating
- Low water pressure
- Strange noises coming from the boiler
- Pilot light keeps going out
If you're experiencing any of the above problems with your boiler, it's important to have it inspected and repaired as soon as possible.
How much does it cost to repair a boiler?
Depending on the extent of the issue and the components that need to be replaced, the cost of a boiler repair can change. In Sutton Coldfield, the typical cost of a boiler repair is between £100 and £400.

Boiler Servicing
Regular boiler servicing is essential for maintaining the efficiency and safety of your boiler. Some of the benefits of regular boiler servicing include:
- Improved energy efficiency, which can result in lower energy bills
- Increased reliability and reduced risk of breakdowns
- Detection of potential problems before they become more serious
- Extended lifespan of the boiler
How often to service your boiler
In order to make sure your boiler is operating correctly and efficiently, it is advised that you have it serviced once a year. Also, this can aid in avoiding any potential security risks like carbon monoxide leakage.
How much does it cost to service a boiler?
Depending on the provider and the intricacy of the service, a boiler service's price can change. An average boiler service in Sutton Coldfield will cost you between £70 and £120.
For a free quote, please get in touch by viewing our contact details below.
Call a heating engineer Sutton Coldfield
Whether it is a boiler repair in Sutton Coldfield or boiler servicing you are looking to get, we can help you. Please contact our qualified heating engineers by calling 0121 405 0404 or using our contact form. You can also send us your query through email at info@allforproperty.com, and we will respond as soon as possible.