Electric Boiler Repair Specialists in Tamworth
Electric boilers are a great option for homes or apartments that aren't linked to the main gas line and/or where oil isn't optional and when it breaks down getting it up and running as soon as possible is important! Our professional electric boiler repair services have you covered!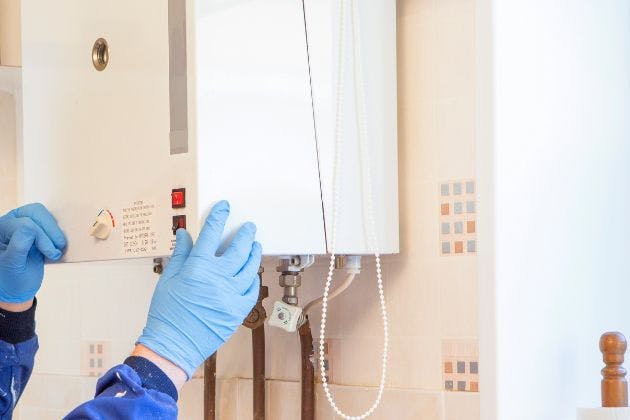 Electric Boiler Repair Services across Tamworth
If your boiler ever breaks down, our qualified heating engineers can come out and repair it quickly. All electric boilers are extremely risky to work on and you need to make sure you hire a certified engineer to repair them. Here at AllForProperty we are fully trained and qualified to repair a range of electric boilers.
We have repaired many electric boilers throughout Tamworth and you can browse through our work by visiting our gallery page or head over to our reviews page to read through the reviews left by our customers.
How does an electric boiler work?
Running water passes through a component that is heated by electricity in electric boilers. Electric boilers have certain heating elements that are designed to cover as much surface area as possible. After the water has been heated, it is transported throughout the rest of your home's heating system to reach the required temperature.
Benefits of Electric Boiler Repair
Electric boiler repair services provide homeowners with various advantages, including:
Cost Savings
Repairing your electric boiler may be less expensive than replacing it totally. Repair technicians can swiftly discover and resolve problems, saving you the cost of purchasing a new boiler.
Improved Efficiency
An inefficient electric boiler can result in higher energy expenditures. Repair professionals can identify issues that are causing your boiler to work harder than necessary and perform the necessary repairs to boost efficiency.
Increased Security
Faulty electric boilers are harmful because they increase the risk of fires or carbon monoxide poisoning. Repairing your electric boiler can assist assure its safe operation and lessen the danger of an accident.
Increased Lifespan
Regular repairs and maintenance can help your electric heater last longer. Regular inspections and tune-ups can help detect minor problems before they become severe problems, extending the life of your boiler.
Peace of Mind
Knowing that your electric boiler is operating properly and effectively can provide you with piece of mind. Repair specialists can assist you in identifying and correcting problems, giving you confidence that your boiler is safe and dependable.
In summary, electric boiler repair services offer various advantages to homeowners, including financial savings, increased efficiency, increased safety, a longer lifespan, and peace of mind. Regular maintenance and repairs can help your electric boiler work smoothly and efficiently, saving you money and lowering the danger of an accident.
How do I know whether my electric boiler needs repairing?
There are a few signs that your boiler could show which indicate that it is in need of repairing. These signs include:
- Leaking water
- Abnormal smell
- It provides inadequate heat
- Your boiler is old
- It is making unusual sounds
Maintaining Your Electric Boiler
Keeping your electric boiler in good operating order requires regular maintenance. Regular maintenance aids in the prevention of breakdowns, lowers the danger of accidents, and boosts productivity. It also increases the life of your electric boiler.
Tips for Regular Maintenance of Electric Boiler
Here are some ideas for keeping your electric boiler in good working order:
Examine the Pressure Gauge
The pressure gauge on your electric boiler should be checked on a regular basis to ensure that it is within standard operating limits. If the pressure is too low or too high, your boiler may malfunction or perhaps shut down entirely.
System Flushes
Flushing the system can assist remove any sediment or debris that has accumulated in the pipes, boosting the efficiency of your electric boiler.
Examine for Leaks
Leaks in your electric boiler can cause severe damage and increase the likelihood of potentially hazardous scenarios such as carbon monoxide leaks. Inspect your boiler for leaks on a regular basis and address them as soon as possible.
Examine for Unusual Noises
Unusual noises coming from your electric boiler could be a sign of a problem, such as a malfunctioning pump or valve. If you notice any unexpected noises, you must address them immediately to avoid further harm.
Employ a Professional
While some maintenance tasks can be completed by the homeowner, more complex repairs and maintenance must be performed by a professional. A professional can detect and repair problems that a homeowner may not be able to spot.
Our Electric Boiler Repair Pricing Options:
One-Off Repair £138+ cost of any part (if) needed + VAT
Repair and Ongoing Cover £99 (fee for the initial repair, labour and parts included) + £22 p/m
Our heating engineers are available throughout Tamworth and the surrounding areas. Call our team on 0121 4050404 and we will be happy to help!