Eco-friendly boilers are not only good for the environment, but they may also help you save money on energy and heat your home. So, while they are a little more expensive to install, they save you money in the long term and minimise your carbon footprint. Call us at 0121 4050404 if you want to talk about your boiler options.
Our heating engineers install boilers throughout Birmingham, Sutton Coldfield, Solihull, and Tamworth. Send us a message using our contact form for a quote right now.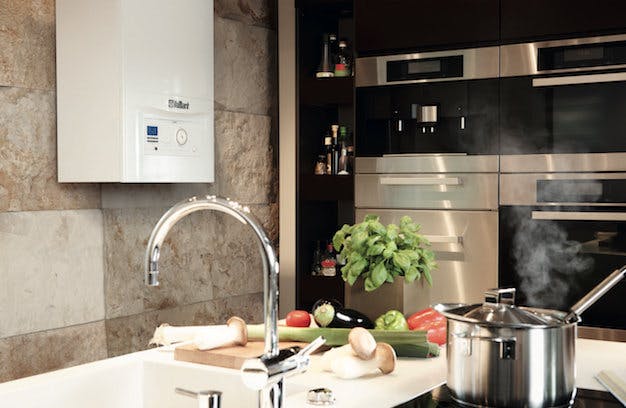 Eco-Friendly Boiler Types
In the UK, there are two types of eco-friendly boilers available:
Eco Biomass Boilers
This involves burning wood or other types of renewable materials to produce heat. But you must evaluate how much space you have in your home because you will need a location to store logs and firewood for fuel.
Eco-Friendly Condensing Boilers
Did you know that the vast majority of new boilers are condensing boilers? They are typically fueled by gas or oil and exist in a variety of sizes, making them ideal for tiny houses. They also require little maintenance, making them appealing to a wide range of homeowners. Condensing boilers are classified into three types:
Combi boilers
Heat only boilers
Oil boilers

How do condensing boilers efficiently heat homes?
They efficiently heat homes by not only burning fuel but also collecting heat from gases that are frequently squandered. They utilise the energy acquired from these gases to keep the water warm as it returns from the radiator to the boiler, using less energy.
Benefits of Installing an Eco-Friendly Boiler
Reduced Carbon Emissions
By discharging less greenhouse gases into the atmosphere, an eco-friendly boiler can help you minimise your carbon footprint. This is due to the fact that environmentally friendly boilers employ cleaner-burning fuels such as natural gas or renewable fuel sources such as biomass.
Savings on expenses
While an eco-friendly boiler may have a higher initial cost, it can save you money in the long run due to lower energy consumption and bills. Because an efficient boiler uses less fuel to produce the same amount of heat, you can reduce your monthly heating costs.
Enhanced Comfort
With reduced temperature fluctuation and more uniform heat distribution, an eco-friendly boiler can deliver consistent and comfortable heating throughout your house. This can help you and your family live in a more comfortable atmosphere.
Better Air Quality
An environmentally friendly boiler emits fewer pollutants and particulates, which can enhance indoor air quality and lower the risk of respiratory disorders and other health concerns.
Environmental Advantages
By selecting an eco-friendly boiler, you are helping the environment by lowering carbon emissions and encouraging sustainability. This can contribute to a better world for future generations.
Factors to Consider When Choosing an Eco-Friendly Boiler
When selecting an eco-friendly boiler, keep your home's size and heating needs in mind. If you have a small property with only one or two rooms, a smaller boiler will most likely suffice to heat it. However, if you live in a large property with multiple rooms and multiple people living in each room (for example, if it's shared by students), it makes sense to get something larger so that everyone can enjoy warm showers and comfortable bedrooms during the winter months.
To maximise efficiency, each new system should include an A-rated condensing boiler constructed within the last five years. These units are more energy efficient than older models since they use less energy while still delivering appropriate heating for your house - saving you money on your utility costs!
Installation and maintenance
The installation of an environmentally friendly boiler might be a difficult operation. It is critical to employ a professional who is familiar with this type of system and has the tools and knowledge required for a successful installation. Maintaining your boiler on a regular basis is also essential to keep it functioning efficiently and safely.
Energy Saving Trust Authorised
Make certain that the boiler you select is Energy Saving Trust accredited. This ensures that your boiler provides an environmentally friendly central heating alternative. If you want to discover if your boiler is Energy Saving Trust accredited, please get in touch with us using the information provided below.

When to Call a Professional
When you have a severe problem, it is best to contact an expert. If your boiler has broken parts or clogs in the system, unusual noises are coming from it that you don't understand, there may be leaks or poor performance, carbon monoxide detection issues (carbon monoxide is lethal), or any other problem that demands more skill than you have at home.
Choosing the Right Professional
It is important to select the correct professional to install your boiler. You should make certain that they have the necessary qualifications and certificates, as well as expertise in installing eco-friendly boilers.
You should also look into the company's customer reviews and ratings, as well as inquire for references from prior consumers who have had eco-friendly boilers installed by them.
Book an Eco Boiler Installation in Birmingham
Our heating engineers serve Birmingham, Sutton Coldfield, Solihull, Tamworth, and the surrounding areas. To receive a quote for a boiler installation with us, please call us at 0121 4050404 or fill out our contact form, and we would be pleased to assist you!